> Shared Memory Processor
MIMS Shared Memory Processor
MIMS Shared Memory Processor (MIMS SMP)
MIMS is providing computer resources with academic researchers in Japan.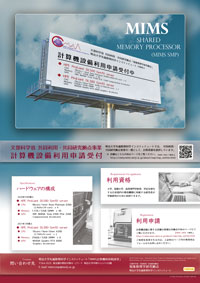 ◆ MIMS Shared Memory Processor was upgraded at October 2020.
The computing speed is faster about 20times.
( by our research center )
◆ We have introduced the computing servers for GPGPU (mims-smpgpu0).
Contents
Spec
MIMS SMP consists of computing servers (mims-smp), computing servers for GPGPU (mims-smpgpu0) and login server (mims-gate). Here is their spec.
 
Computing server (mims-smp)
HPE ProLiant DL580 Gen10 server
CPU
96core/Intel Xeon-Platinum 8260 (2.4GHz/24-core) x 4
Memory
1.5TB/32GB DIMM x 48
GPU
HPE NVIDIA Tesla V100 PCIe 32GB Computational Accelerator
Storage
約100TB
Software
・Intel PS Composer 2 Edu 3yr LTU
・Altair PBS Pro 1 Sckt 3yr Perp LTU
HPE ProLiant DL380 Gen10 server
| | |
| --- | --- |
| CPU | 16core/Xeon-Silver 4208 (2.1GHz/8-core) x 2 |
| Memory | 256GB/32GB DIMM x 8 |
| GPU | NVIDIA Quadro RTX 6000 Graphics Accelerator |
| OS | Cent OS |
| Software | Open PBS Pro |
| Performance | Single-precision: 16.3TFlops |
Login server (mims-gate)
| | |
| --- | --- |
| CPU | Intel Xeon E3-1230 v2 (4 core, 3.3 GHz) |
| Memory | 16GB |
| Storage | 1TB |
Registration
Requirements for applicants
Applicants must meet either one of the following conditions:
Faculty members or any other equivalent persons of university, junior college, college of technology, or Inter-University Research Institutions.
Terms of use
●1
You have to promise to comply with all the rules as a user of the computer system in Meiji Institute for Advanced Study of Mathematical Sciences (MIMS-SMP).

Please understand the letter of "agreement for using MIMS-SMP" and the "Guidelines and Conditions for Using MIND, Meiji University".

For more information see:
Guidelines and Conditions for Using MIND, Meiji University
about MIND

MIND (Meiji University Integrated Network Domain) is the general term for Meiji University's information network, whose main purpose is for education and research. MIND is connected to both ISP and SINET (the network operated by National Information Institute), and is becoming a part of a large network.

At Meiji University, the MIND system provides various services. The system is organized in order to promote the smooth working and ongoing improvement of MIND.
●2
When you announce or publish your results obtained by using MIMS SMP, please acknowledge it clearly. See below for example.
Example

This work was supported by MEXT Promotion of Distinctive Joint Research Center Program Grant Number JPMXP0620335886.
●3
We request you a report on the research results of using the MIMS SMP computer. Understanding the usage status is extremely important for future support as a joint research base. We appreciate your understanding and cooperation.
*
The MIMS-SMP is NOT an online storage service. Please use it at your own risk and do not forget to backup your files.
Registration
Please click the "Application" button to open the application form.
 Registration ↓
* If you have not received an automatic reply mail, please contact us.
**Addressee
 Email: ***@meiji.ac.jp (replace *** by mimssmp)
 Name of representative:AKIYAMA Masakazu (Associate Professor)
 Meiji Institute for Advanced Study of Mathematical Sciences
  8F High-Rise Wing, Nakano Campus, Meiji University,
  4-21-1 Nakano, Nakanoku, Tokyo, Japan, 164-8525
Account and Password
If the information is appropriate, we will send you your account and password by e-mail. Your personal information is used ONLY for managing MIMS SMP accounts and for informing you on MIMS SMP. Please note that we may refuse your registration if you do not provide us with appropriate information.
 
● Please change your initial password immediately after receiving our email. Please note that if your password is not changed after one month, your account will be closed.
● It may take some time to issue an account.
● If the information is incomplete or unsuitable for use, your application may be rejected. Please note. In that case, we will contact you by email.
● The personal information you send us will be used only for the management of the MIMS SMP account and the notification from the administrator regarding the server operation.
Fee
No fee is needed to use MIMS SMP.
Submission of Report
At the end of the fiscal year, we will request a report on the submission and presentation of research results using the MIMS SMP computer.
1 Papers / books
 (1) Number of Papers
 (2) Papers and DOI (refereed)
 (3) Papers and DOI (not peer-reviewed)
 (4) Books
2 Invited presentations
3 Other research activities

 Submission form ↓
How to use
Please refer to this page.
Support
If you have any question, please don't hesitate to contact the support room.
 
 Email: ***@meiji.ac.jp (replace *** by mimssmp)
 Name of representative:SHIRAISHI Masashi (Associate Professor)
 
 Meiji Institute for Advanced Study of Mathematical Sciences
  8F High-Rise Wing, Nakano Campus, Meiji University,
  4-21-1 Nakano, Nakanoku, Tokyo, Japan, 164-8525